GOOD REASONS FOR A DEVELOPMENT PARTNERSHIP WITH US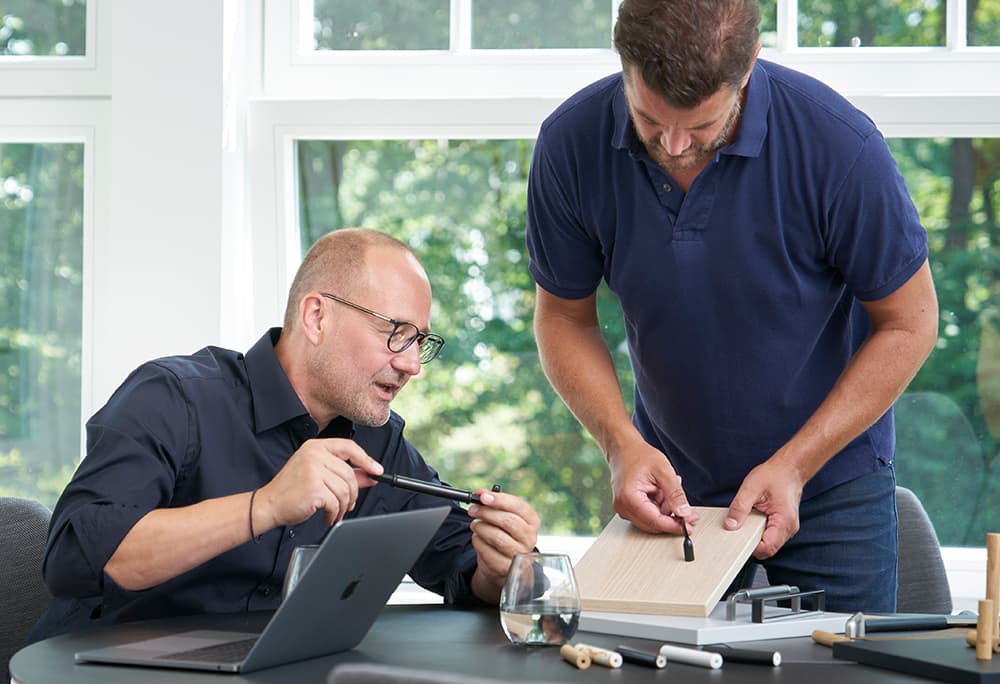 Expertise and experience
We have gained an immense wealth of experience and expertise from numerous projects, which we bring to every new project. We make technical suggestions and show cost-effective alternatives where possible. When it comes to checking the technical feasibility of a promising idea, constructive criticism and honesty are always the best policy. It's essential that good design is always reliably produced. Our handle experts go to work on every project with a keen sense for affordable handle design. We calculate fairly to find an economically attractive solution.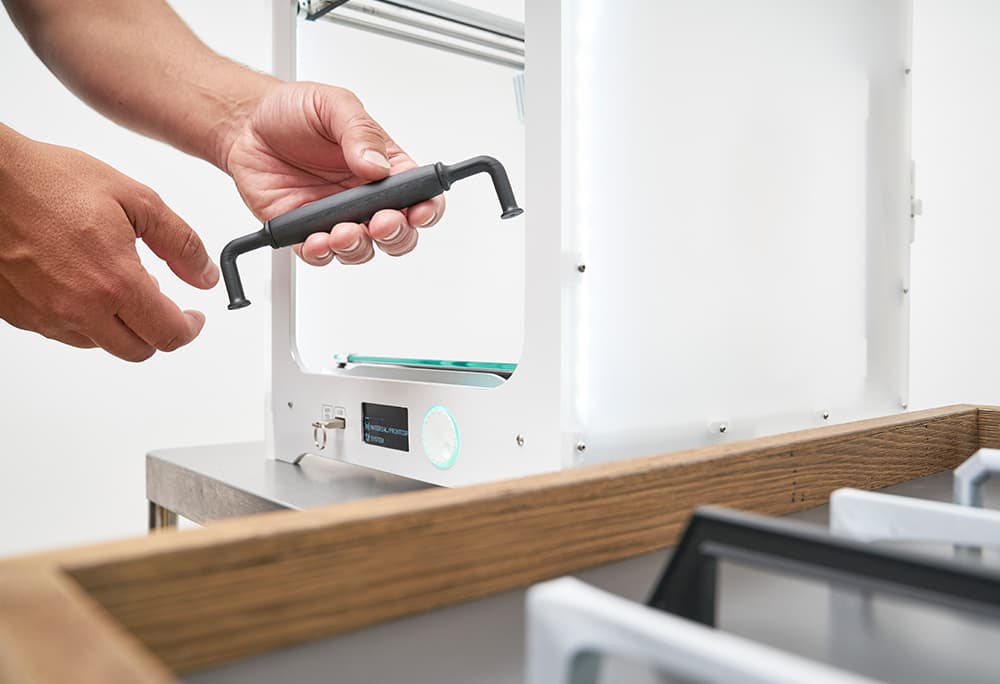 Samples and Prototypes
To get an initial impression of the proportions, we first of all use our 3D printer to make a quick and simple plastic product sample if requested.
After the initial design phase, we analye every detail and develop a prototype milled from metal, which is finished with the final surface; the tools for series production are built on the basis of the final prototype.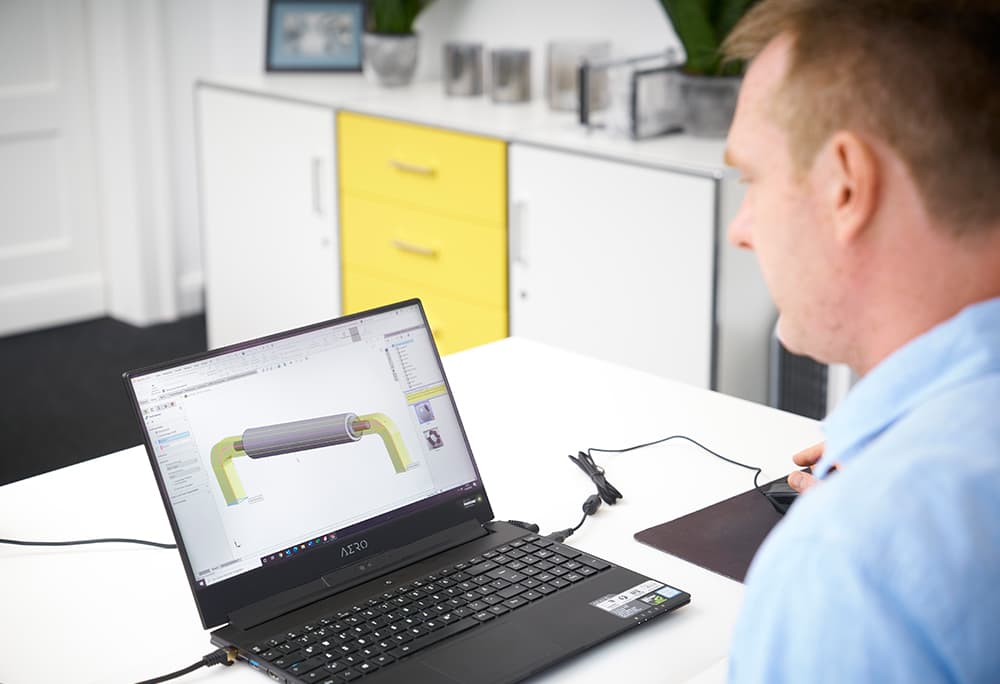 2-D- AND 3-D data
Inclose cooperation with you, we develop detailed construction drawings of the final handles and support your development department with 2D or 3D data.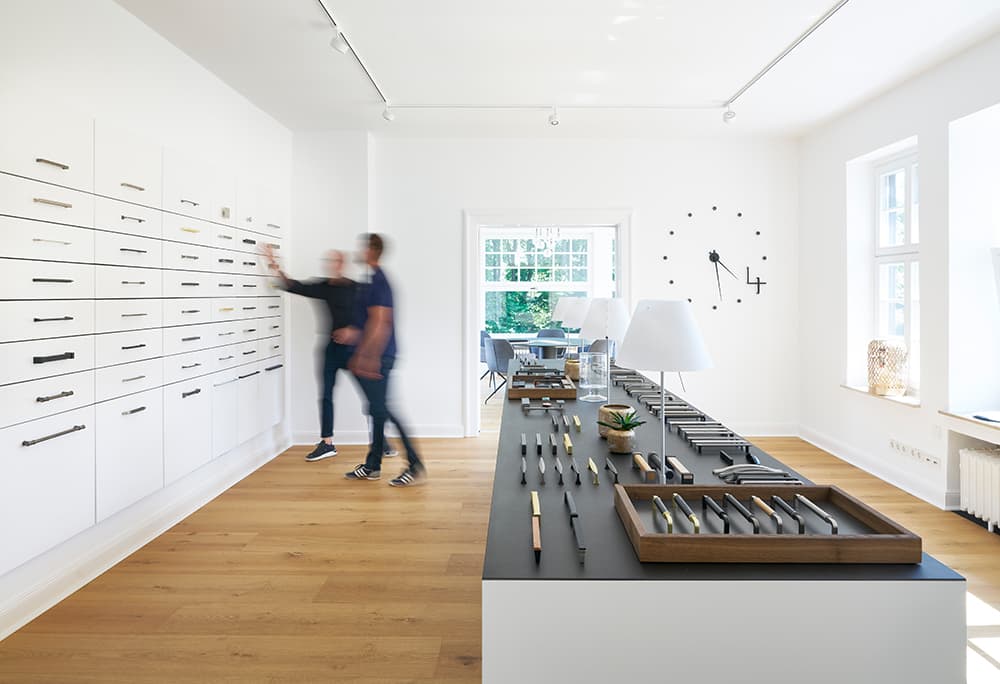 Ideas Workshop
In our ideas workshop, we are happy to present all the products in our current collection. This is where you can take your time to examine, feel and compare the handles and combine them with your surface samples. In fact, it's not unheard of for the occasional ingenious product idea to be created here over a hot espresso. Exchanging ideas is just as important to find solutions for small or large issues as well as to constantly finetune processes. We look forward to your visit!
OUR STANDARDS FOR JOINT DEVELOPMENT PROJECTS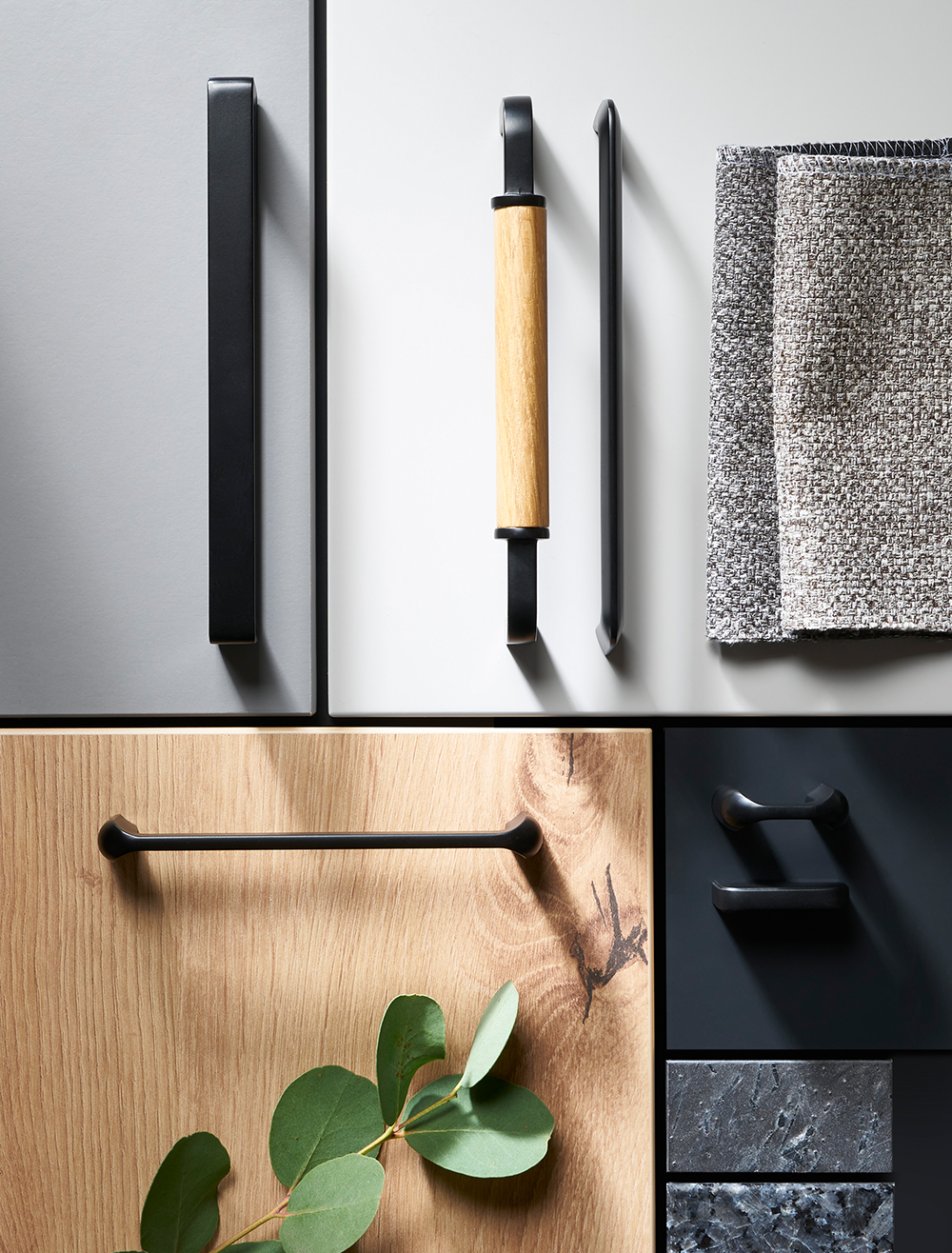 // We really enjoy working on joint development projects – we don't see them as a bit of a drag, but as a chance to showcase what we can do.
// We understand your requirements and appreciate your concerns.
// We listen to you, ask questions, analyse, gain understanding, learn and add some inspiring suggestions of our own to the mix.
// We always handle confidential information during and beyond the development process with utmost confidentiality.
// We will get on the job fast and help you to pick up the pace in your development process.
// We like to play it safe. If there is not 100 percent process reliability in series production, we advise against implementation, even if it means us giving up a seemingly lucrative business.
// We have a wide range of production facilities at our disposal with a large variety of different surfaces and materials to choose from. We will show you at the outset exactly what we are capable of achieving.
A CREATIVE MIND IS BEHIND EVERY DESIGN
We work with outstanding designers- from talented newcomers to established design studios. But nobody can hold a candle to those old hands. With their immense experience, they know exactly what's important when it comes to developing contemporary products that sell. This is exactly what the young designers challenge time and again, generally taking a completely new approach. They come up with different but, in the end, just as successful solutions. And yet, even if they sometimes do have a completely different approach, they all share the same passion for beautiful products with perfect workmanship. This creative team loves unconventional ideas with that element of surprise.
HAPPINESS IS IN YOUR HANDS
DESIGN PRINCIPLE:
Our collection is very diverse. with a variety of designs and surfaces that appeal to a wide audience. For all these differences, three aspects are particularly important to us when designing and developing new products. In fact, we regard them as guiding principles for our designers.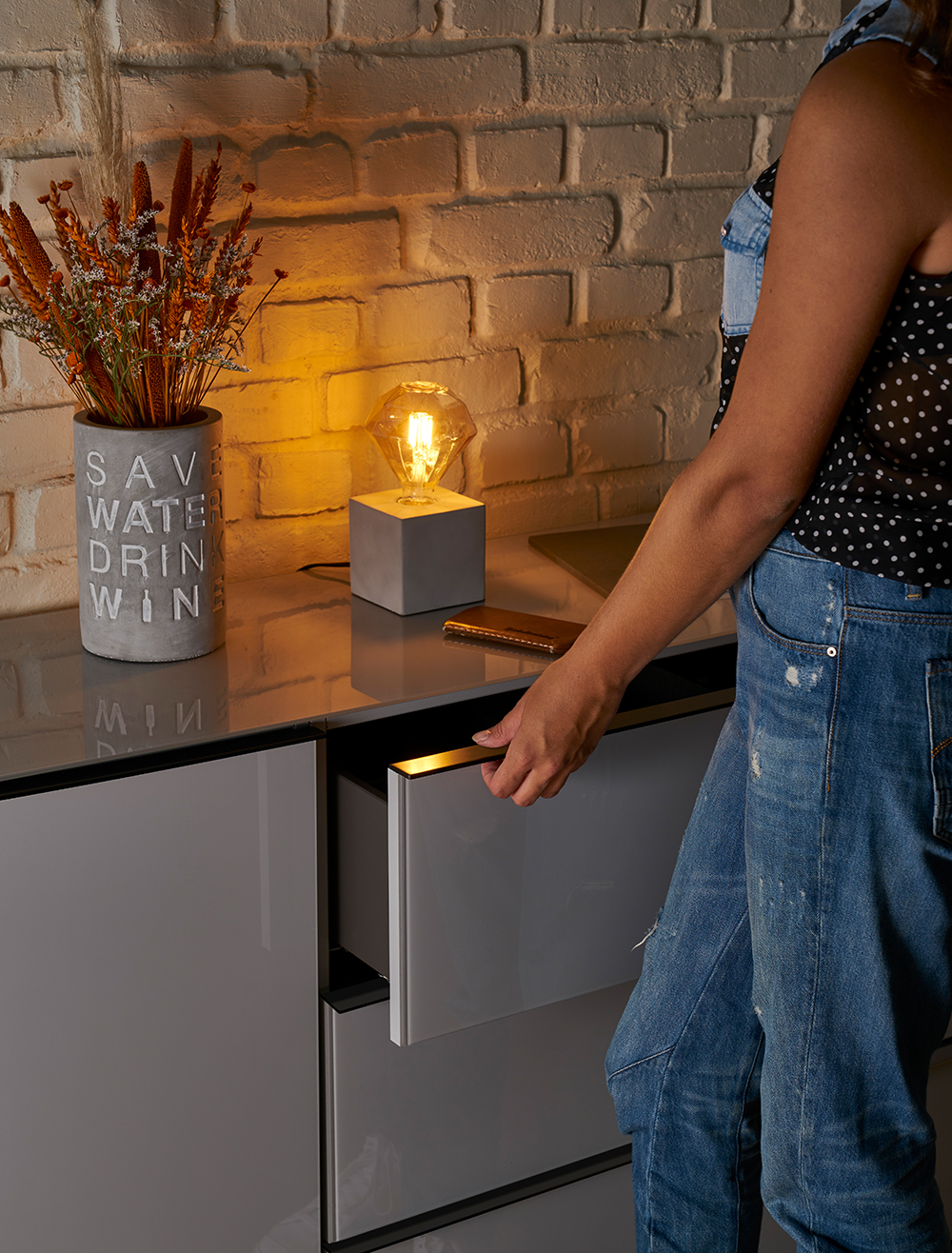 // Appearance: kitchens, bathrooms and furniture are not bought for one season, but to last for many years. In addition to high material quality, perfectly crafted products and flawless functionality, appearance plays a crucial role. Will you still like the furniture in a few years' time or will you soon get tired of it? The signature feature of our handles is unique timeless design that will retain its relevance and appeal for many years to come.
// Feel: it's essential that the handle surfaces feel pleasant to the touch and that corners and edges in particular are beautifully finished and smooth. Impeccable deburring of the handle body is just as important for this as a perfect surface.
// Ease-to-use: a handle must be easy to grip, fit perfectly in your hand and leave enough space for your fingers when opening and closing doors and drawers.
However passionate we are about our products, we must never lose sight of the price. The trick is to be able to offer you beautiful and functional handles at affordable prices.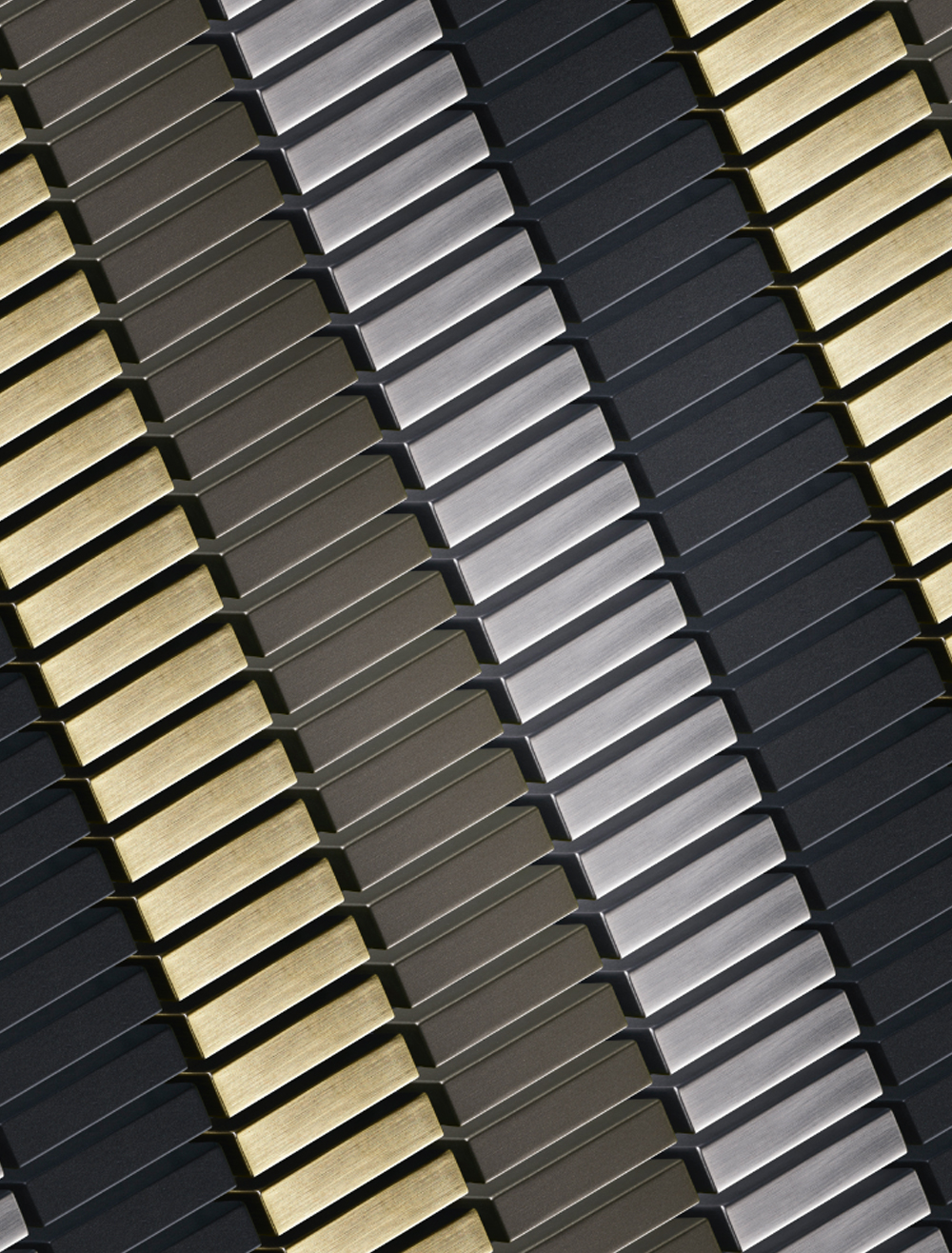 BEAUTIFUL SURFACES
We have a wide range of production facilities at our disposal with a great choice of different surfaces and materials.
// Only high-quality, durable and tried and tested metals are used, either in their natural state or with permanent colourings and coatings.
// Finishing process as required: anodised, galvanised, powder coated or wet painted.
// Fine-polished or roughly brushed for texture. Shiny or matt.
// Wide range of colours in the standard range.
// We also offer your individual coating colour (wet and powder coatings) from a minimum quantity of 1000 pieces. For example, the handle colour can be matched to other metal components of your product..